The Goethe Innovation Prize was launched in 2012 and has since been annually awarded to three outstanding startups from the Unibator. Startups are selected in advance, and then evaluated by an expert jury of professionals from the sciences, industry, and politics.
Prize Money
The Goethe Innovation Prize awards a total of €17,000 in prize money: €10,000 for 1st place, €5,000 for 2nd place and €2,000 for 3rd place. The Association of Friends and Patrons of the Goethe University endow the prize, which is presented as part of the Innovation Forum. There, the winning startups present their ideas onstage in front of a variety of notables and VIPs. Past winners include, among others, Repetico und MeinUnternehmensfilm.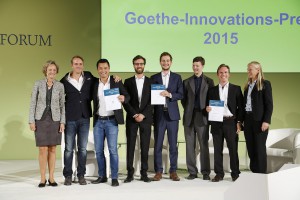 Innovation Forum
Initiated by Dr. Lohse, the first Innovation Forum took place in 2012 in cooperation with the Handelsblatt, on the Goethe University's Campus Westend. At the innovation forum, Handelsblatt editor Gabor Steingart hosts a discussion with Germany's top managers on current topics in innovation. Past panelists have included Anshu Jain (Deutsche Bank), Martin Winterkorn (VW), Dr. Marijn Dekkers (Bayer),
Roland Bloekhout (ING DIBA), Michael Schmidt (BP), Dr. Kurt Bock (BASF), Dr. Michael Kaschke (Carl Zeiss), Matthias Müller (Porsche) and Rene Obermann (Telekom). A look back on the Innovation Forum 2014 can be found
here
.
Award Ceremony on 08.09.15
The next Innovation Forum takes place on September 8th, 2015. Join the event and register here.